All KERBEROS products are designed by its Research and Development department, which guarantees the highest quality and the best control over the reliability of the product catalog, favoring research and technological implementation and accrediting itself as a partner for research projects.
The sensitivity towards the issues of eco-sustainability is also expressed in the low environmental impact of its production, through a reduced use of packaging, the optimization of energy consumption and the use of a short chain with less pollution deriving from the transport of goods.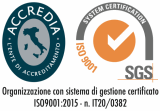 The company has, on a voluntary basis, equipped itself with a Quality Management System according to the UNI EN ISO 9001:2015 standard certified by SGS Italia S.r.l.